ESC provides high quality, affordable coaching and consulting services for nonprofits throughout Southern California. Our team of executive-level consultants volunteer their knowledge and experience to support our nonprofit clients as they face their most pressing challenges – and impact the lives of those who depend on their services every day.
ESC's consultants come from diverse backgrounds with senior management experience in business, nonprofit organizations, academia and government, and receive extensive training from ESC. They are passionate about what they do, providing a consistently high level of service and devoting the necessary time to each client's needs in order to ensure lasting results.
ESC trains and supports our volunteers in a client-centered approach based on a coaching model that employs active listening, facilitation, patience and guidance — with a deep commitment to client confidentiality
At ESC, we are committed to our clients' success, staying involved from planning through implementation and impact. 
Our Vision
Successful nonprofits making our community an extraordinary place in which all can thrive.
Our Mission
To empower nonprofits to achieve their missions through affordable coaching and consulting by trained executive-level volunteers.
Collaboration: Using a partnering approach for mutual development and enrichment
Integrity: Putting service first, fulfilling commitments and earning trust
Quality: Striving for excellence in all we do
Relationships: Forging strong connections throughout our community
Impact: Making a meaningful difference through dedicated service
Resourcefulness: Creatively building on diverse experience and expertise, continuous learning and customized approaches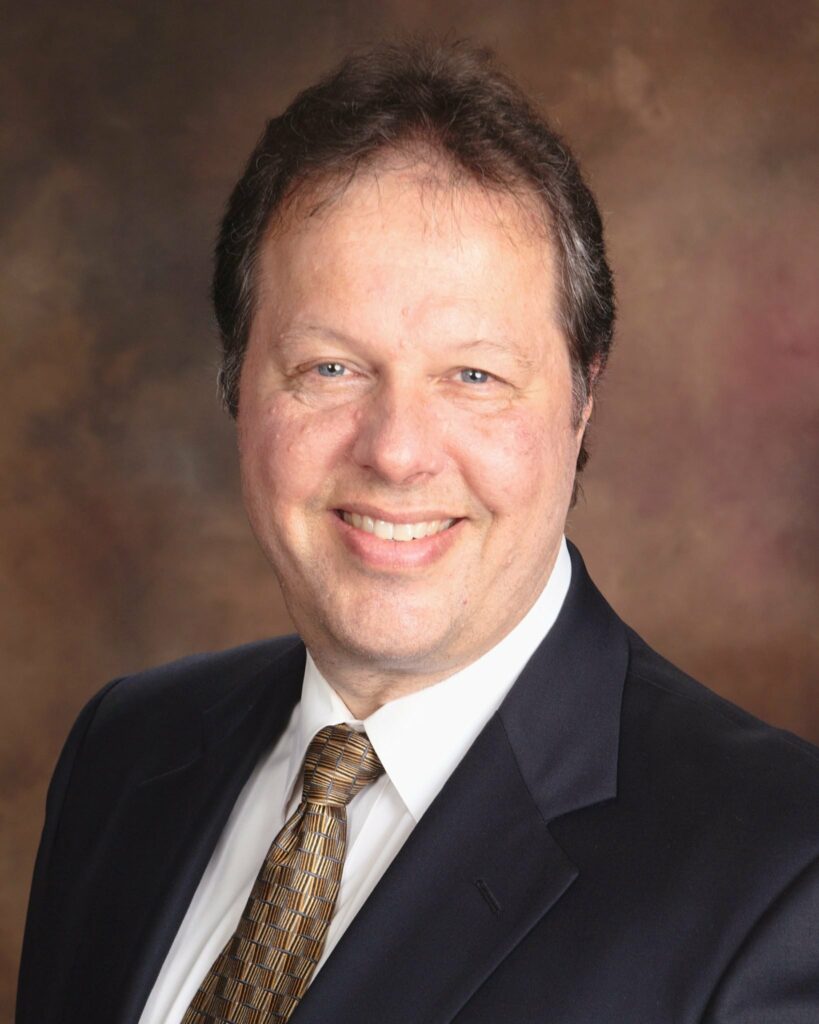 David Factor
President and CEO
David Factor has served as President and CEO of Executive Service Corps of Southern California (ESC) since August 2013. In this role, he is responsible for steering the overall vision and strategy for ESC, which includes establishing new initiatives in the greater nonprofit community, strengthening board and contributor relations, and providing strategic support to program staff and leadership. Prior to being appointed President of ESC, David served as Vice President, Consulting Services beginning in 2011.
David has more than 30 years of experience serving charitable ventures, entrepreneurial and mature businesses, and the public sector. He is deeply committed to community service as both a professional and volunteer. David has consulted with social service and health care organizations, foundations, public-private task forces, religious institutions and organizational leaders. Past projects have encompassed operations; human resources and finances; board, staff and volunteer management; executive coaching; peer-to-peer exchanges; organizational restructuring; charitable mergers; national conferences; and fund development. David also served in professional roles for the Jewish Home for the Aging, the Southern California Association of Governments and elected officials in Sacramento and Los Angeles.
David is Vice Chair of the Board of the Directors of ESC-US, the national governing Board of the 17-member ESC affiliate network. He is also a member of the Advisory Committee for Valley Nonprofit Resources, an organization founded to support and assist capacity building for nonprofits located in the San Fernando Valley, housed at California State University Northridge. Additionally, he serves on the Advisory Board of Educate California, whose mission is to ensure that all California foster and kinship care youth graduate and are prepared for life after high school.
He currently serves as a Trustee of the Max Factor Family Foundation, and as a member of the Board and Endowment Committee for Adat Shalom congregation, where he is a past President. He previously served as a Director of Youth Alive, a statewide violence prevention and youth leadership organization.
David earned a Bachelor of Arts, with honors, from UC Davis specializing in Public Service and Energy Policy. David's wife, Holly is a nurse supervisor at a pediatric practice. Their son, Perry works as a recruiter in the tech industry and daughter, Reina is working toward a Ph.D. in clinical psychology.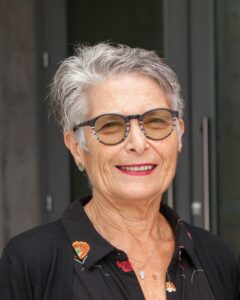 Susan joined the ESC team in July 2017. She is responsible for executing and delivering high-caliber training and continuing education for our consulting corps, ensuring that our volunteer consultants are well-versed in nonprofit best practices and management tools. She also supports the Vice President of Programs and Training in the execution of ESC's client training institutes and programs. Susan previously served as an ESC consultant. 
With over 35 years of experience in organizational development and training, Susan is well versed in working with leaders in both a teaching and consulting setting. Susan spent the majority of her career in the healthcare industry, serving as the Senior Learning and Organizational Development Consultant for Children's Hospital of Philadelphia (CHOP) and the Albert Einstein Healthcare Network. Most recently, Susan served as a Leadership Development Consultant with Kaiser Permanente, and supported the medical centers with their leadership training programs. Susan has also served on several nonprofit boards within Southeastern Pennsylvania, including the Family Planning Council and Or Hadash synagogue. She attended Temple University for both her B.S. in Social Work as well as her M.Ed. in Health Education.
Outside of her work with ESC, Susan enjoys spending her free time with her grandchildren along with cooking, reading and watching movies.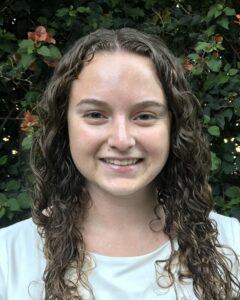 Marissa Belau
Operations Manager
Marissa joined the ESC team in June 2017. She plays a key leadership role in supporting all of ESC's internal and programmatic operations. She works closely with senior leadership to help design and implement policies and initiatives to meet our strategic goals to deepen our impact on the nonprofit community. Marissa previously served as ESC's Special Projects Coordinator until July 2019.
Raised in rural Minnesota, Marissa recently completed her M.S. in Applied Psychology at the University of Southern California, where she focused on Organizational Development in the nonprofit sector. While at USC, she served as a graduate student consultant for The Coaching Fellowship of San Francisco. Marissa has her BA in Psychology and Sociology from Simpson College in Iowa. There, she managed the day-to-day operations of a volunteer-based scholarship program, served two terms as an AmeriCorps volunteer and worked as a Team Lead, Membership Specialist, and Train Driver for Blank Park Zoo.
Marissa is thrilled to now be a part of the L.A. community. She enjoys taking time to explore everything the city has to offer. She also loves reading, baking, and spending time with Granger, her cat and Max, her bearded dragon.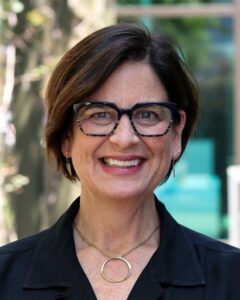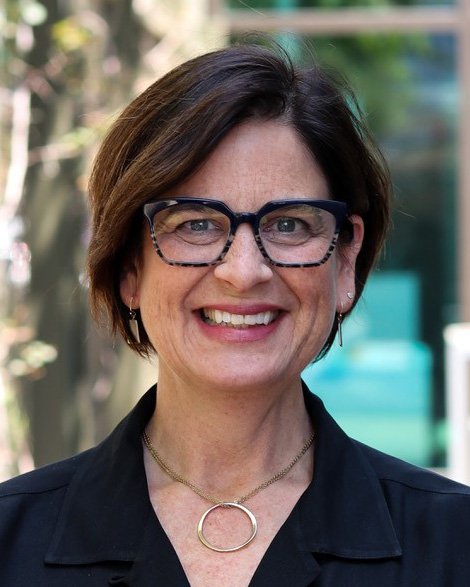 Julia Fischer
Director of Organizational Consulting
Julia Fischer joined the team in June 2017. Julia is responsible for managing ESC's consulting engagements by developing scopes of work, building consultant teams, and nurturing client and consulting relationships. She also supports the Vice President of Organizational Consulting in overseeing engagements to maintain excellent project outcomes.
Julia earned her Psy.D. in Organizational Psychology from Phillips Graduate University, and holds an MFA in Directing from the University of Minnesota. She served as Artistic Director for a critically-acclaimed, arts nonprofit for seven years, after which she worked in higher education administration at the University of Minnesota, UCLA, and Phillips Graduate University. She teaches Strategic Communication, Organizational Psychology, and Group Dynamics in the Master of Leadership Program at Woodbury University.
As an ICF certified executive coach, she helps women build leadership capacity, and also guides artists through creative challenges. In her consulting practice, she focuses on change management and retreat facilitation for small, creative firms.
In her time off, Julia enjoys riding her bike, cooking vegan food, fixing up her Joshua Tree cabin and rooting for the Dodgers. She's also a sucker for a good sunset.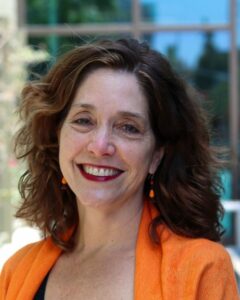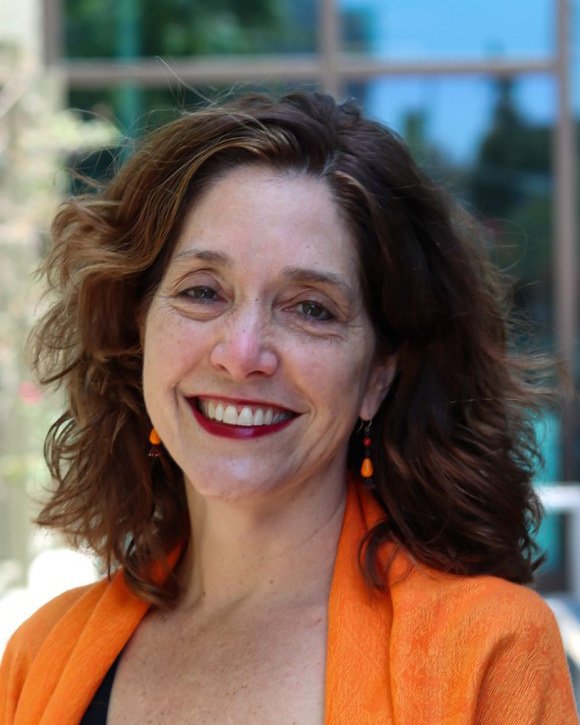 Vicky Foxworth
Vice President of Organizational Consulting
Vicky Foxworth joined ESC in December 2013. She is responsible for leading ESC's consulting engagements in all our core services. She oversees all projects from planning through implementation and impact, and is deeply involved in managing client and consultant relationships to ensure high-quality service delivery.
Before joining the ESC team, she was a Senior Manager of Leadership and Organizational Effectiveness in Talent Management at USC. In 2001, at the University of Maryland (UMD), she founded and directed the Center for Leadership and Organizational Change, an internal consulting department in the Office of the Provost. Vicky was also a Program Director in the Office of Diversity and Inclusion at UMD for seven years where she focused on organizational change around issues of inclusion and equity. Her awards at UMD include Woman of Influence, Champion of Our Community (the LGBT organization that promoted social justice) and the President's Service Award.
Her nonprofit experience includes working at the National Headquarters of the American Red Cross as a Training Coordinator and at the Foreign Student Service Council as a Program Coordinator. She was the Fund-Raising Board Chair of Free State Justice. She volunteered with Boat People SOS and is now on the Religious Education Committee of the Unitarian Universalist Church in Santa Monica.
She has master's degrees from The George Washington University (Human Learning and Development) and the University of Maryland at Baltimore (Social Work).
Relatively new to the west coast, Vicky loves exploring southern California with her husband and daughter, hiking, reading and making mosaics.
Lilly Hogle
Organizational Consulting Coordinator
Lilly joined the ESC team in January 2019. She is responsible for coordinating consulting engagements by assisting and monitoring the relationships with and between ESC clients and consultants. She also supports the Vice President of Organizational Consulting and Director of Organizational consulting in ongoing business development and strategic growth efforts. She previously served as Consulting Team Assistant in 2017-18.
Raised in Northern New York, Lilly graduated from Clarkson University with a B.S. in Political Science and Gender and Sexuality Studies. While at Clarkson, Lilly's studies and extracurricular work focused primarily on social justice and activism, naturally leading her to the nonprofit sector. After graduating in May 2017, Lilly moved to Los Angeles to explore opportunities in the nonprofit world, happily landing at ESC.
Lilly is loving calling Los Angeles 'home' as her loyalties have quickly switched to "West Coast Best Coast." She enjoys hiking, photography, writing, and exploring all that California has to offer—both urban and rural.
Sandy James
Operations Associate
Sandy joined ESC in March 2014. Sandy is responsible for operations and administrative support to all of ESC's departmental teams, including acting as the primary point of contact for client billing and account receivables. She also plays a key role in event planning and vendor relationships. Prior to her current position, Sandy served as ESC's Administrative Assistant until July 2019.
Although this is Sandy's first experience working at a nonprofit organization, she has previously worked in the education community. During college she worked as an Administrative Assistant and Testing Administrator. She has experience in administering state and certification tests such as the SATs, EPT/ELM, GMAT, GWAR and more. Sandy has also volunteered at St. Mary's Medical Center in Long Beach in departments such as admitting, pediatrics, and labor and delivery. She has also participated in several health care fairs and events. She received her B. from California State University Dominguez Hills in Public Administration with a concentration in Administrative Management.
In her leisure time she enjoys spending time with her children Sariya and Princeston. She also enjoys cooking, reading, traveling and spending time with family and friends.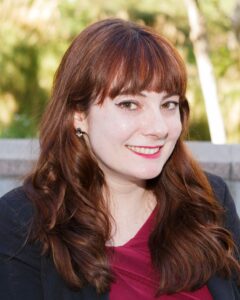 Meghan Maloney
Volunteer and Programs Manager
Meghan joined the ESC staff in July 2015. She plays a key role in consultant onboarding and volunteer management, including ESC's initiative around the strategic diversification of the consultant corps. She is also responsible for managing all logistics for ESC's client training institutes, customized cohort leadership programs and consultant trainings. 
Meghan has a passion for the nonprofit sector and public service. Before joining ESC, she served with AmeriCorps for three years. She currently serves as the Vice President of Education and Programs at DOVIA-LA, a professional association dedicated to supporting volunteer managers. Meghan is involved with The Dinner Party, a national organization that brings grieving millennials together to connect and discuss life after loss. She also serves on the board of Gamma Rho Lambda National Sorority, the only LGBTQ+ sorority in the United States.
Meghan is an alumna of UCLA, graduating with a B.A. double major in American Literature and History with a minor in LGBT Studies. She is a proud Angeleno and loves being able to give back to her local community. Behind the scenes, Meghan enjoys spending time with her cat, reading memoirs, and exploring LA's food scene.
Michael Marquez
Sales Force and IT Administrator
Michael joined ESC in November 2019 having worked as a Data Analyst, Database Administrator, and Database Consultant to nonprofit organizations. His responsibilities as ESC's Salesforce and IT Administrator include acting as primary administrator for ESC's customized Salesforce environment and helping all departmental teams in the integration of various technology tools to enhance ESC's overall efficiency and effectiveness. His duties reflect his eight years of experience, prior to joining ESC, helping mission-based organizations meet their technology needs.
Michael holds a B.A. in Economics from California State University at Los Angeles with an emphasis on economic impact in the developing world.
On weekend days, you will probably find Michael with his wife and young son enjoying various outdoor activities or traveling. On weekend nights, Michael can be found on stage somewhere in the L.A. area playing bass with his Latin band.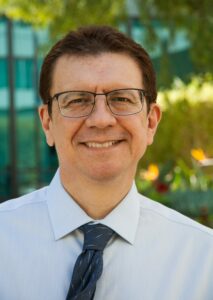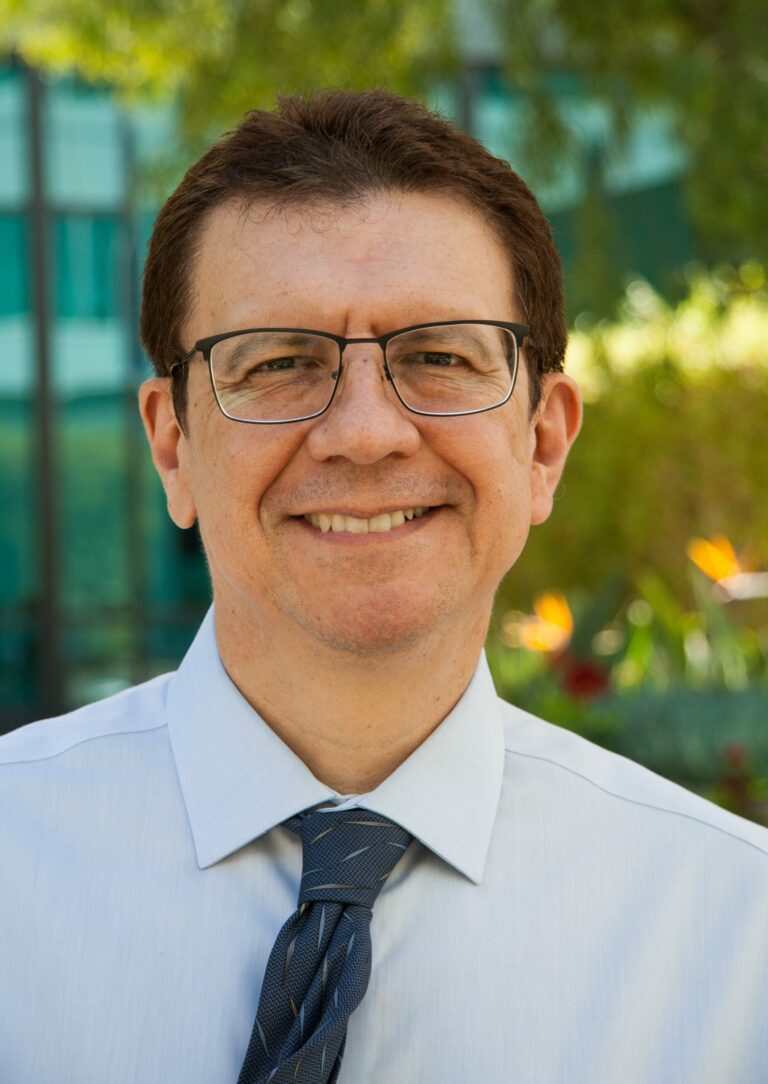 Larry McCormick
Bookkeeper
Larry joined the ESC staff in July 2019. He is responsible for the day-to-day bookkeeping of ESC's finances, including processing accounts payable and receivable. He also provides support in maintaining accuracy and compliance with nonprofit accounting policies and audit best practices.
Born and raised in Southern California, Larry went to college in Long Beach. Following college, he served four years in the U.S. Army, and was responsible for utility maintenance, including air conditioning and heating repair. After his military service, Larry has pursued work opportunities in a wide range of industries from sales to customer service and even music education. He is a certified Professional Bookkeep from Universal Accounting School in Utah, and is also a certified QuickBooks Pro Advisor.
When Larry isn't reconciling bank statements or depositing checks, he enjoys sports, piano, guitar, traveling, cooking and hiking. His wife Renee is an occupational therapist for pediatrics. Together, they help cater to the needs of their two cats.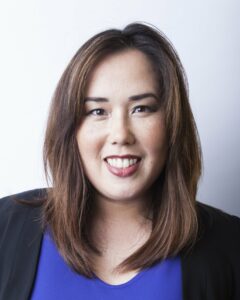 Janet McIntyre
Vice President of Programs and Training
Janet McIntyre joined the ESC staff in 2012 with extensive experience as a certified coach and a consultant to nonprofit organizations. She is responsible for leading the design and execution of ESC's client training institutes, customized leadership cohort programs and collaborative projects. She also oversees the onboarding and training of our consulting corps and works closely with the entire ESC staff to provide training and management support to our volunteer consultants.
Janet earned her Executive Master of Leadership with an emphasis in nonprofit management from USC's Price School of Public Policy. Her work builds on a deep history with nonprofit organizations in Los Angeles for 20 years, in roles such as executive director of the Hollywood Arts Council and development director of Classical KUSC Public Radio. Her Bachelor of Arts in Public Policy with honors is from Occidental College where she served as a member of the Board of Trustees. She earned her coaching certification from the Coaches Training Institute. She currently serves on the Board of Jericho Road Pasadena and the South Pasadena Community Garden.
When she's not working with or volunteering for nonprofit organizations, this native Angeleno bleeds blue for the Dodgers and enjoys gardening, traveling and reading non-fiction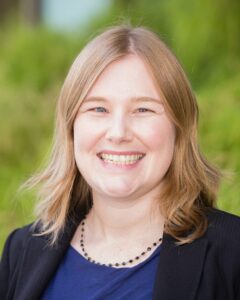 Felicity Palmer
Vice President of Development and Communications
Felicity Palmer joined ESC in July 2015. She is responsible for leading ESC's fundraising, marketing and communications efforts, which include overseeing individual giving, foundation, corporate and government grants, and external communications and marketing.
She is passionate about ESC's powerful mission to help the LA nonprofit community grow and thrive. Felicity has previously worked in fundraising at Planned Parenthood Los Angeles and as a professor of literature at Clarkson University and the University of Southern Mississippi. Felicity earned her Ph.D. in Comparative Literature from Columbia University. She also served as Chair of the Board of Directors of the Angeles Chorale, a 100-voice auditioned choir rehearsing and performing in the Los Angeles area
In her spare time Felicity enjoys spending time outdoors, singing, reading, watching classic films and traveling.
William R. Barrett, Jr.
Chairman (retired)

Fiduciary Trust of California
Danielle Benoit
Business Performance Advisor
Insperity
Irwin S. Field
Chairman

Liberty Vegetable Oil Company
William Flumenbaum
Senior Vice President and Investment Counselor

The Capital Group Companies
Michael J. Goldberg
Partner

Bain & Company, Inc.
Abner D. Goldstine — Treasurer and Vice President of Finance
Senior Vice President and Director of Capital Research (retired)

The Capital Group Companies
Kate Ides – Acting Secretary
Corporate Vice President and Assistant General Counsel of Litigation

AECOM
Irwin J. Jaeger
CEO

New Phoenix Management Company
Eric L. Moore
Founder and Executive Director

Educate California
Lizbeth Nevarez
Managing Director, Non-Profit Services

Green Hasson Janks
Robert F. Scoular
Partner

Dentons US LLP
Laura L. Survant
Partner

Deloitte & Touche LLP
Daryl T. Twerdahl

Executive Director, Development
St. Vincent Meals on Wheels
Scott Weiner — Chair
Managing Principal

Payden & Rygel Investment Management
David J. Zuercher –  Vice Chair
Executive Vice President  (retired)

Wells Fargo & Company
EX OFFICIO
David Factor
President and CEO

Executive Service Corps of Southern California
Mary Trigg – Chair, ESC Consultants Advisory Council
Senior Vice President (retired)

Wells Fargo & Company